number of visits: 0
Add to favorites
Ledger Blue hardware wallet is one of the famous and popular hardware wallets. This device is used for safe and secure storage of digital currencies. This wallet is designed and produced by the French company Ledger Blue.
One of the important conditions for working in the field of digital currencies is choosing a suitable wallet. Hardware wallets are a piece of hardware and are among the most popular methods for storing and managing digital currencies among traders.
This digital currency wallet is connected to various devices such as computers, mobile phones and tablets using Bluetooth and USB technology and provides high security for storing and transacting digital currencies. The Ledger Blue wallet has an OLED screen and allows users to make their transactions more safely and accurately.
Buy ledger blue wallet
To buy Ledger Blue wallet, you can go to the official website of this company and select the desired product in the store section and place your order. You can also buy this product from reputable online stores that cooperate with Ledger. Before buying, make sure that the store you choose is valid and reliable. If you are not sure about online shopping, you can go to one of Ledger's official representatives in your country and get the device. To find an official dealer in your area, you can go to the Ledger website at /where-to-buy and select your area, then a list of Ledger official dealers in that area will be displayed. In any case, we suggest that you check the store and the product thoroughly before buying to ensure the credibility of the store and the authenticity of the product.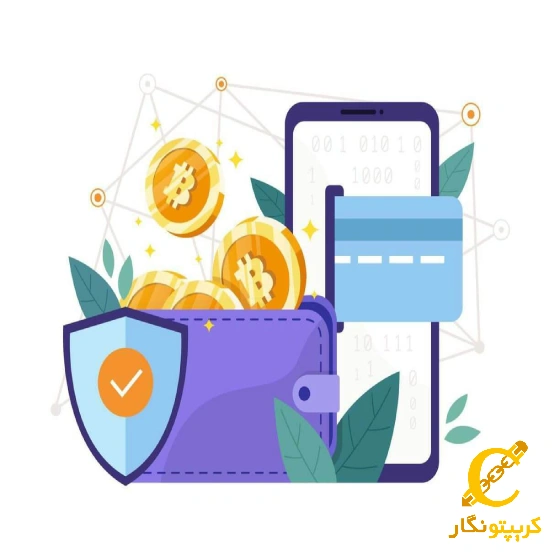 Ledger Blue wallet price
The price of the Ledger Blue wallet is around 275 euros, which may vary in different stores according to the exchange rate and market conditions. It is better to contact different sellers before buying and check the price carefully to buy it at the right price.
What currencies does Ledger Blue hardware wallet support?
Ledger Blue wallet supports more than 1500 digital currencies and is one of the wallets that has a high diversity in supporting cryptocurrencies. Listed below are some of the most popular cryptocurrencies on LedgerBlue:
Bitcoin
Ethereum
Ripple
Litecoin
Binance Coin (Binance Coin)
Cardano
Polkadot
Dash
Neo
Chainlink
Stellar
Tron
nano
titanium
Zcash
Also, this wallet supports the "ERC-20" standard, which refers to currencies such as Tether, Diamond and many currencies based on the Ethereum network.
Ledger Blue wallet hardware and software specifications
Ledgerblue wallet is designed almost in the dimensions of a mobile phone.
The hardware specifications of this wallet are:
4 physical buttons for wallet management and transaction confirmation
3.5 inch color touch screen
Dimensions 10 x 67 x 97 mm and weight 110 grams
Screen resolution 480 x 320 pixels
ST31H320 processor with a speed of 180 MHz
Flash memory 512 MB, RAM memory 128 MB
Lithium ion battery with a capacity of 600 mAh
Bluetooth version 4.0 and USB version 2.0
Using security technology such as CC EAL5+ to protect information
It has 2 security modules to protect private keys
Using the BOLOS operating system to increase security against attacks
Has Secure Element security chip
Ledger Blue includes several features that allow you to securely store your digital currencies and manage your transactions.
Some of the software specifications of this device are:
Support for 1500 digital currencies and tokens based on Ethereum network
Ability to create multiple separate wallets and manage them
Can be used with the latest versions of Chrome, Opera, Firefox and Brava browsers
Compatible with Windows, Linux, Mac and Android operating systems
Ability to connect to computer, mobile and other smart devices using Bluetooth and USB
Support from different apps like MyEtherWallet, Electrum and Ledger Live
The ability to create a PIN code and store it in the device in order to increase security
It has an OLED screen to display the details of digital currency transactions
The ability to store private keys in the device and keep it safe
Ability to electronically sign transactions using touch screen and physical buttons
Wallet backup and restore using Seed Phrase.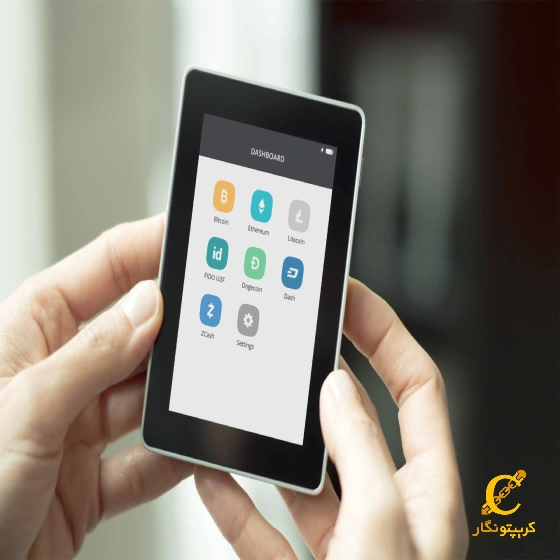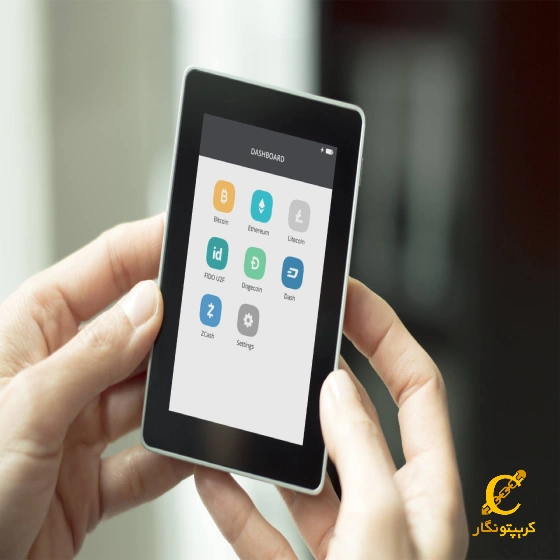 Ledger Blue wallet feature
Ledger Blue wallet is one of the most popular hardware wallets in the world of digital currency, which is equipped with advanced features. Some of the features of this wallet are:
1. high security: This wallet is made with the highest security standards and is one of the most secure hardware wallets. This device uses advanced encryption technology and has several layers of security such as hardware encryption, multiple PINs and passwords. Also, the use of security chips in this device ensures that the private keys are fully protected and not accessible to others.
2. Support for different digital currencies: The ledger wallet is compatible with more than 1500 digital currencies and can be used to store many ERC20 and ERC721 tokens on the Ethereum network. Due to market changes, new currencies are regularly added to the support list of this wallet. In addition, users can store several different currencies in this wallet at the same time. Also, by supporting a wide range of digital currencies, users have more flexibility in choosing and keeping their cryptocurrencies.
3. recovery Information: Blue Ledger allows users to access all of their wallet information in case their device is lost or damaged, using the 12-24 word passphrase they receive when creating a wallet.
4. Portability: The size of Ledger Blue wallet is like a mobile phone and due to its small design and light weight, it is portable and users can easily use it anywhere.
5. Simple and easy design: This wallet has a very simple and user-friendly interface and is designed so that users can easily use all its features and perform their transactions easily. Using the OLED screen, this device allows users to see all the information of their transactions, including the amount of digital currency, the address of the origin and destination of the transactions, the transaction costs and the history of the transactions. Also, using the keyboard of the device, they can transfer and receive digital currencies, as well as perform various settings, including changing the PIN code, device password, and software updates.
6. Access level: In this wallet, users can use this device separately and perform their transactions, and by connecting to different devices such as computers, mobile phones, and tablets, they can access their wallets and apply the desired settings. This device has the ability to run several programs in its operating system separately.
7. Offline storage: Ledger Blue wallet allows users to make transactions without an internet connection and sign them offline and store them on the device. After the device is reconnected to the Internet, the offline transaction is automatically sent to the blockchain network. This increases security and prevents users' assets from cyber attacks and hacking.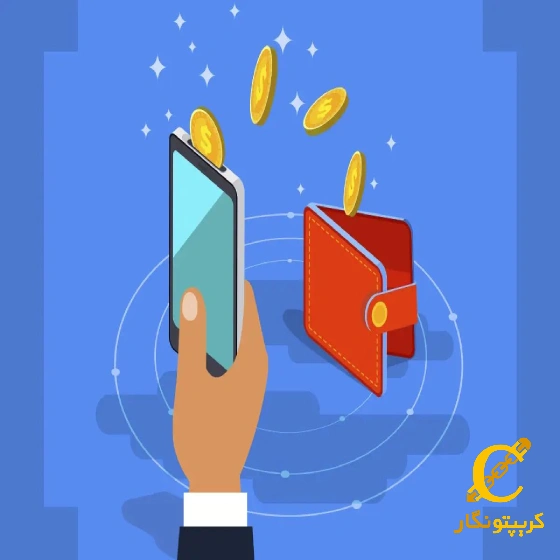 How to activate Ledger Blue wallet
Follow the steps below to install Ledger Blue Wallet. In the first step, after turning on the device, two options appear.
1-Configure As New Device: If you want to set up a new wallet, select this option to display the next steps.
2-Restore Configuration: If you already had a Ledger Blue wallet and lost it for any reason, restore your wallet by entering the recovery phrase in this section.
In the next step, you must choose a password between 4 and 8 characters. After choosing a password, click Continue.
Now you need to re-enter your password and select Continue again.
In the next step, the 24-word recovery phrase is displayed as 4 digits. At this point, write down the recovery phrase carefully and keep it in a safe place.
After going through all these steps, your device is ready and your account activation is complete. After activating the account, you will have permission to access your account information and you can view the digital currencies in your wallet without installing any program.